Media >
Gourmet Traveller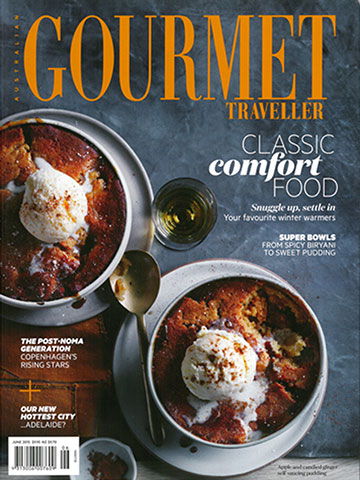 Gourmet Traveller
Australian Gourmet Traveller offers pure escapism and luxury. The agenda is to deliver a global perspective on food and travel to a discerning and loyal readership. It is a monthly food and travel magazine that speaks to the affluent and lucrative AB market.
Readers trust the integrity of the magic that underpins the Australian Gourmet Traveller experience. While maintaining a commitment to local coverage, Australian Gourmet Traveller provides readers with a global outlook, with travel stories ranging from short breaks to exotic getaways.
Australian Gourmet Traveller offers escapism and luxury, but it is always practical and full of insider knowledge. Readers emerge from Australian Gourmet Traveller richer for the experience. Loyal subscribers learn effortlessly and enjoyably from a magazine whose authority, objectivity and judgement they can trust.
FREQUENCY: Monthly
CIRCULATION: 67,178 (print & ipad)
READERSHIP: 415,000 
Please contact us for more information and advertising opportunities.